Mid 80s. Plamen Dimov from Plovdiv, Bulgaria, was making a living in the Scandinavian just like many other Bulgarians musicians at the time.
He was playing at a restaurant in the small town of Kitee when he saw a cool blondie watching a movie on a black-and-white TV. "Hey, I have some great rakia (the most popular alcohol beverage in Bulgaria), it will bring colours to the screen", he told her. "I'm in no mood for listening to nonsense", she replied.
A few days later he once more met a beautiful blonde and tried to start a talk. "I heard the same nonsense a couple of days ago", she said.
'Oh, it was you?', Plamen replied. 'I didn't get to see your face because I was busy looking over other staff!"
Why am I telling you this? Because...
This is the beginning of the story of Nightwish.
A few years earlier Plamen taught music at Kitee, the hometown of Lena - the same blond beauty who became his wife.
One of his students was really impressive Tuomas Holopainen.
The Nightwish Museum in Kitee keeps the diploma which Plamen issues to Tuomas after s clarinet course. There's no grade in it. Instead, the teacher wrote BRAVO!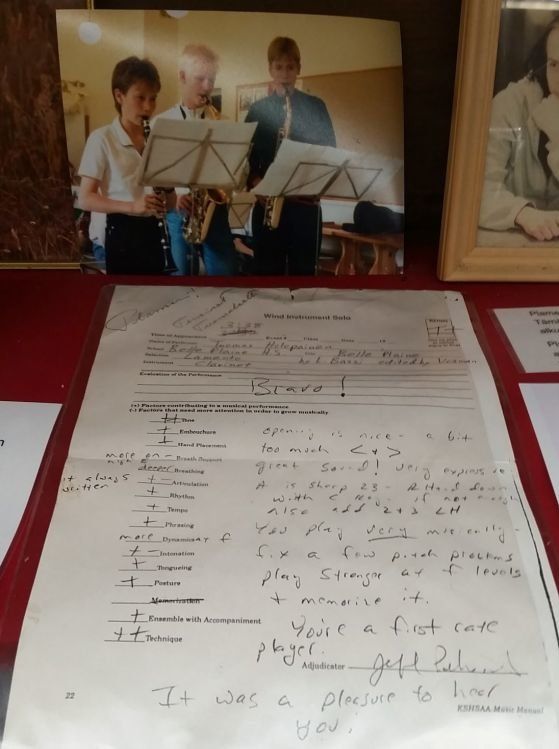 In the mid 90s there were 17 youth bands and Plamen was teaching all of them. It was then when he foresaw Tuomas's genius and encouraged the boy the unite the best of all 17 bands in one. This is how Nightwish was born.
Next to each other at the Nightwish Museum in Kitee are the albums of the band. The first one - Angels Fall First, was issued in only 500 copies and sold out.
This album is genius, my personal favourite. Tuomas and Plamen, however, think it lacks something. The teacher and his not-even-twenty then student put great efforts into the second album so that it sounds the way Tuomas dreamed of but still was not strong enough to do it.
The story to follow is well-known. Oceanborn sold in 800,000 copies, Once - 2,300,000 copies, all other Nightwish albums turn platinum
Along with photos of Tuomas as a child the museum also keeps a drawing of Plamen and Tuomas. It reads "Plamen Dimov is Tuomas's music teacher. He supported Nightwish, especially at the beginning of their career."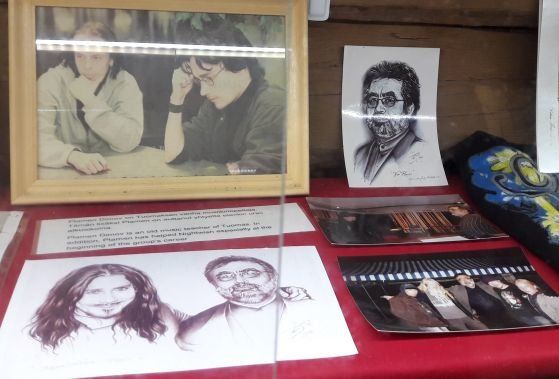 This is where the legend that Plames is like King Midas starts from. Everything he touches turns into gold.
Next Tarja, next Tuomas
10 years later Nightwish is the greatest modern time metal band, the best-selling product of Karelia and the second most recognizable Finnish brand after Nokia. Thousands of children worldwide wish to be like them. They upload Nightwish covers with the hope that someone will see a star in them.
In Kitee Plamen founded the Nightwish academy. Its official name is Kitee International Music and Art Festival. Musicians from all over the world gather here for ten days with Plamen tutoring them. Sometimes the tutors are some of the members of Nightwish themselves. Each girl hopes to become the next Tarja, each boy - the next Tuomas.
OFFNews had the unique opportunity to be invited to this year's Nightwish days at the Finnish town. It was not only because of our extreme fondness of their music. There was one more reason. This year six Bulgarians took part in the academy. All of them highly talented. Maybe the best of Plamen's students. He hopes that Bulgaria will soon talk about them. Three of them are still kid - Lidia Ganeva, 12, was Bulgaria's representative at the Junior Eurovision contest. Miroslava Todorova is 16 and one of the X Factor competitors. Todor Borissov, 12, is a a talent discovered by Plamen on his last visit to Bulgaria.
Plamen with his students Todor Borissov, Lidia Ganeva and Miroslava Todorova. 
The other three students are participants in а spectacular project which - I am sure - we will hear a lot about. It is called Vivaldi Metal Project and we will tell about it in a while. It seems like a band of superior class is being born. A band that could be compared to the ones we glorify.
Kitee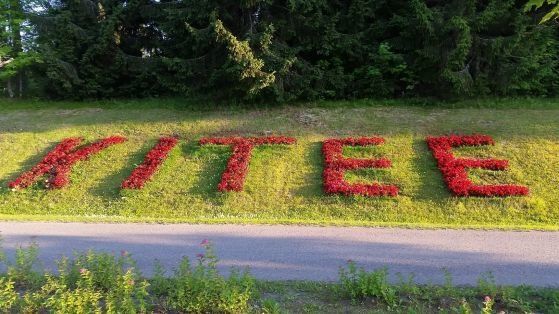 Kitee is located at the end of the world. In the fabulously beautiful Karelia, 400 km northeast of Helsinki, just nearby the border with Russia. At first glance there is nothing but lakes and forests. Its population is just over 10,000 people, but they are scattered across 40-kilometer long and 30-kilometer wide territory on the shores of beautiful lakes.
The feeling of purity, harmony with nature and privacy is fascinating. Houses and small blocks in the center can be counted. Within meters of them, you walk in lawns with wildberries which lead to a crystal clear lake with a sandy beach and the obligatory sauna next to it.
In summer the sum in Kitee doesn't go down. It only gets a little darker for an hour, like at dusk, but it never gets completely dark. It starts shining at half past two in the morning until 11 in the evening. The endless day is the reason why the summer in Finland is much hotter than we imagine. During the week we spent there it was 33 degrees in the afternoon and the water temperature in the lakes was 25-26 degrees. In winter, of course, it's the opposite - the nights are endless, the snow is over a meter, and the temperature is 30 below zero.
I've been wondering how such a small town like Kitee could be a home to so many talents. I think I've found the answer. It is the seclusion. We spend a great part of the day communicating with other people. In Kitee, there are neighborhoods of just a number of houses. The other neighbors are kilometers away. One may not go to the city center for days. Even when you go, you won't meet a lot of people. If you want to exercise, you have all the time in the world. If you wish to show something to the local people, they will all come to see you. But they'll expect that you have mastered the thing you show.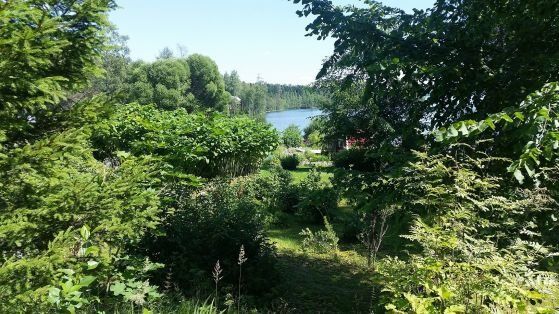 This is the view from Tuomas's home in Kitee.
Although they are all from Kitee and almost at the same age, Tuomas, Emppu and Uka didn't know each other as kids. Tuomas's house is 15 km away form the town center. Tarja's home was 10 km away from the center, in the opposite direction. When Plamen recommends her to Tuomas, the boy could not immediately remember who she was although they had played on the same stage.
The other explanation is the
School
There are two types of schools in every Finnish town. The first one is like ours. The other type is called "people's school". It is a place for cultural activities, for music lessons. Plamen still teaches at such a school - he is a tutor in piano, guitar, singing, violin, brass instruments and the strange but typical for Finland school subject "Bands". If you wonder why you know of so many Finnish bands (Nightwish, Amorphis, Apocalyptica, Stratovarius, HIM, Korpiklaani, Lordi, Sonata Arctica, Children of Bodom, Ensiferum, Fintrol, Rasmus, Turisas), here's the answer. At the tume Nightwish was born, Plamen was a teacher to 17 bands. In a town as big as Bulgaria's Radomir.
There's a piano in each room. Not only in the concert hall, not only in the classrooms, but also in the bedrooms, at the canteen!, singer Marina Ammouri exclaims. She's one of the stars of this year's Nightwish academy. She's of a bizarre Ukrainian-Russian-Jewish-German origin. She lives in Stockholm but is most popular in the US.  the legendary Hard Rock Cafe. Just after it she called Plamen and ask to take part in his academy. because, as we all know, "he turns everything into gold".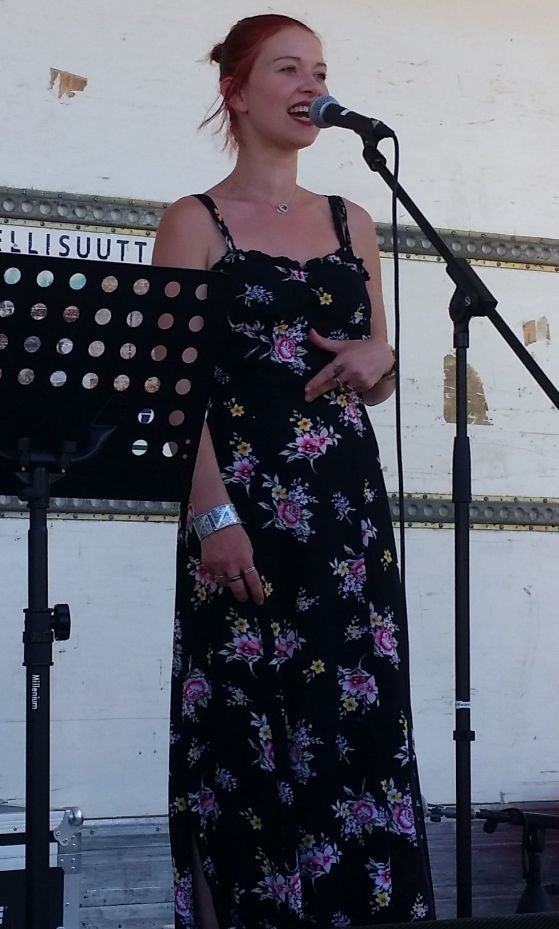 Mira-Anika
Mira-Anika is from the neighboring bigger city of Joensuu. She's 30 and until recently, she has led quite a wild life. When she was "in a great danger", as she puts it, the social care sent her to Plamen because of his name for changing peoples' destinies. Plamen made her believe she'd be the next Whitney Houston. And Mira-Anika doesn't stop singing. She wakes us up at 6, has breakfast, sings. Sings 10 hours a day.
During one of the breaks she speaks to her mother on Skype. She pulls me to the screen to show me: "See, mum, they've come from as faaar away as Bulgaria, from Plamen's country."
I'm telling her. I'll make it. She'll see I'll make it. I only need to rehearse."
I'm enchanted listening to her pure Nordic voice. Maybe because I am no fan of Whitney's I think that Mira-Anika sound a lot greater. At the concert, however, she fails. She cries a little. Then says she obviously hasn't rehearsed enough and continues singing. This times she sing for the whole night as well.
In Finland everything that is considered a luxury is utterly expensive. Beer is also a luxury. On the other hand, everything considered a basic human need is free. education i all its forms is free - extra curriculum activities, music lessons, additional tutoring - it's all free of charge. If you accidentally get in trouble, the whole community comes to your help. And doesn't leave you alone until you're fine. 
The school where the Academy takes place is made in constructed in such a way that it can transform into a culture center, a hotel, a camp, a crises center or students campus in minutes. Each building has a sauna, a pool, a barbecue in the yard. The clssrooms have kitchens and can turn into sleeping rooms.
The festival
Kitee International Music and Art Festival is the biggest event in the life of the small town. A group of Rotary-children from all over the world has come especially for it this year. Every day ends with a concert. The first one is of Iiro Rantala and is performed at the big concert hall. Underneath is the studio where Nightwish recorded their first two albums.
Iiro Rantala is one of the world's leading pianist at the moment. He has come to Kitee with the help of Tuomas Holopainen. Plamen is extremely happy to have such a glorious guest in Kitee. The pianist landed with a private plane which waits for him to take him back to Zurich.
Rantala is a really funny virtuoso, a true celebrity in Finland. The local people crowded the concert hall which is not small at all. Rantala speaks in English because this is not a regular concert. It's rather a lesson to the participants in the academy.
'I am often asked what the secret of the Finnish sound is', he says while repeating again and again a motive on the piano. 'There is an easy answer: if you ask me what the secret of the Finnish sound is, then you will never understand.. But to musicians like you I can tell the more complicated answer: the secret is in the minors. Just listen to the American hits - they all are in majors. Majors are fake. With them people lie that they are happy. Minors are the truth. They are nostalgia. They are solitude. There's soul in them. 
I was asked to to make an interpretation of John Lennon's Imagine. At first, I thought: What should I interpret to this song. It is so pure, so perfect. But then I remembered the Finnish love of minor tonality. And see what happened..."
At this moment I realize why Finnish metal sounds so different from any other.
--------
Searching for the next Nightwish (Part II): Vivaldi Metal Project and Plamen's boys and girls fro Bulgaria